Although the COVID-19 pandemic is a universal issue, it has disproportionately affected Indigenous communities across the world, amplifying and exposing the social inequalities they already face. Indigenous populations have been left behind in the first waves of relief. Issues such as food insecurity, language barriers, and lack of access to healthcare are being exacerbated by this global health crisis. For the Cabécar community of Costa Rica, COVID-19 has highlighted a lack of educational resources that will likely have long-term effects on a generation of their children.
Quarantine has drastically changed the lives of the Indigenous population of Costa Rica. Poor access to healthcare makes COVID-19 a greater health risk for isolated communities, such as the Cabécar village of Yoldi Kicha, where the nearest hospital is 25 miles away across rugged terrain. The population of Yoldi Kicha is taking as many precautionary measures as possible. Outsiders must now receive special permission to enter the community, as well as pass through a gated entrance with guards after a temperature check. Before, the Cabécar would get food and supplies at the local town of Turrialba; now, they have supplies delivered to them in trucks to limit their interaction with people outside of the community. Like most of the world, they have also been forced to close their schools to decrease the risk of transmission.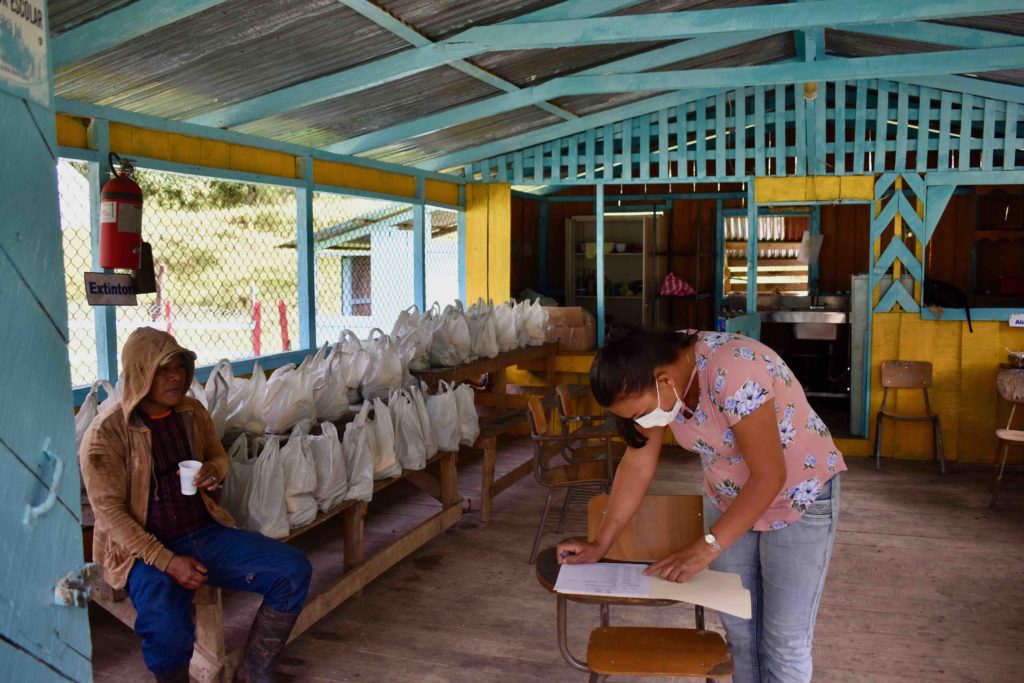 CCC interviewed one 10-year-old student, Joyce, who lives in Yoldi Kicha. We first met her 4 years ago when we established a connection program between her school and the local school in Turrialba. She told us that when she first learned about the pandemic, it seemed like an issue for the outside world that would never come to Costa Rica, let alone her village. COVID-19 restrictions have also impacted the Cabécar's ability to connect with other local communities. Before, the Cabécar would travel regularly to Turrialba, patronize shops, and socialize with the non-Indigenous population. Cabécar students would also interact with students from the school in town, through programs like the one Joyce took part in. Now, little to no face-to-face cultural exchange is possible. This lack of intercommunity interaction affects how the Cabécar are viewed by the non-Indigenous population. Although they receive regular government support and interact with nearby towns such as Turrialba, they remain a pervasively invisible group in much of Costa Rica. Social isolation will increase non-Indigenous blindness to the Cabécar's needs. This could have long-lasting ramifications, increasing inequalities such as lack of representation in local government and the lack of access to education that the Cabécar are struggling with now.
Due to COVID-19, students globally have been forced to transition to online-only learning. However, the ability to utilize online learning tools at all can be impossible for students who already live within education deserts. This problem is not exclusive to the Cabécar community: around 1 in 10 of the poorest children living in the U.S. don't have access to the Internet or the technology that online learning requires. This puts low-income students at a disadvantage, furthering the education gap, which is already a product of generational wealth inequality and a variety of other socioeconomic factors. Education presented difficulties for the Cabécar community even before COVID-19. On average, the non-Indigenous population of Costa Rica are in school for 7.6 years, yet for the Indigenous population, the average is only 3.4 years, and illiteracy is 30%.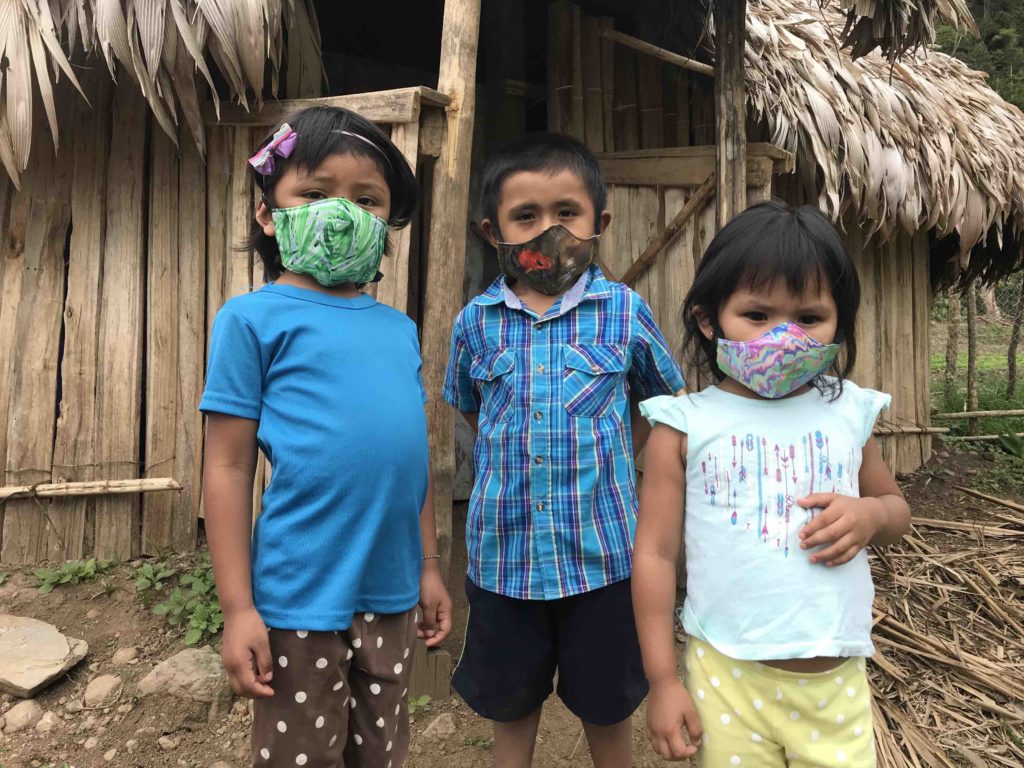 Before COVID-19, teachers would walk several hours from the nearby town of Turrialba to the school, stay for one week, and then return to their homes. Now, the Cabécar are having to establish new methods of educating their children. Although the Costa Rican government donated computers to the Cabécar schools at the beginning of 2020, students will not be able to use them this year due to limited access to the Internet. Patricia, the principal of the Cabécar school Kjalari, gave her perspective on these issues. To obtain more educational materials or even cell service, she must either drive a motorcycle for an hour or walk three hours over uneven terrain. While there is internet installed in the school powered by solar panels, it does not work most of the time. She believes that the situation is going to get worse before it gets better, and does not think they are going to start school again this year.
Online learning is not an option for the Cabécar. However, because of new restrictions, teachers are only able to travel to the community in person once a month. Not only does this mean the teachers must prepare a month's worth of paper educational materials and hand-deliver them, but students are now forced to wait for extended periods of time to receive grades and feedback on their work. These extremely delayed grades mean a student could have incorrect answers for up to two months, hindering the academic growth of an entire generation.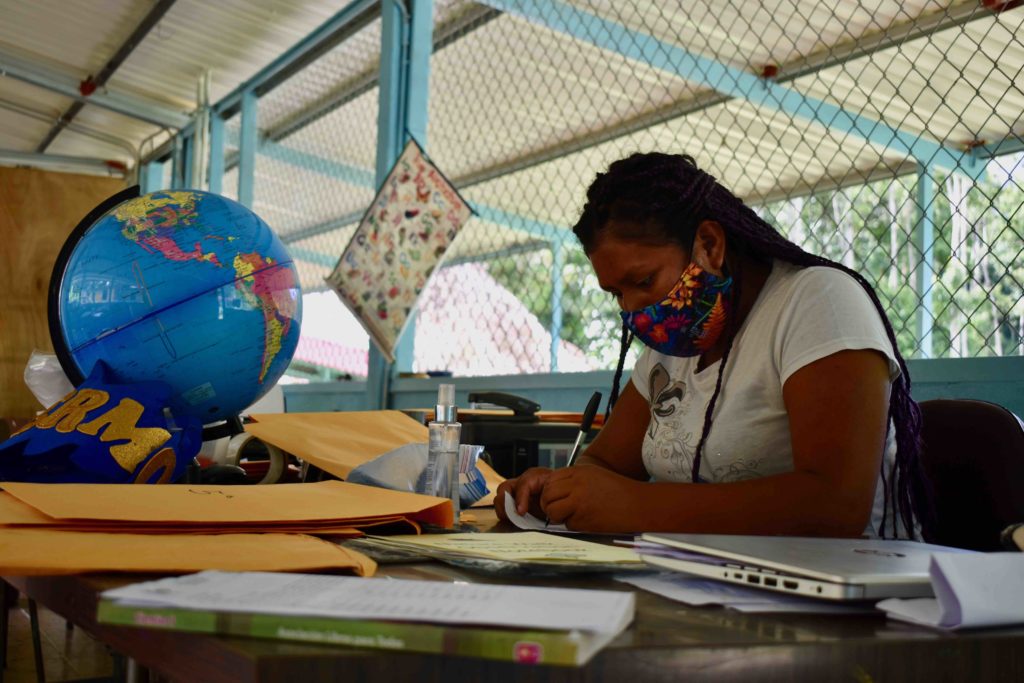 There is also a language barrier to consider. The nationalized school system continues to offer materials only in Spanish, even after efforts to produce bilingual materials that would suit the needs of Indigenous children. Some Cabécar students, such as Joyce, are lucky enough to have parents who read and write in Spanish, but most do not, forcing them to reach out to other members of the community to assist them in their studies. Studies have shown that this type of education gap has long term effects on a population, with consequences such as a limited capacity for upward mobility, increased risk of poor health and hygiene, and shorter lifespans. Unequal access to education also contributes to gender inequality, potential exploitation, and the restriction of a given community's political power.
The COVID-19 pandemic has intensified barriers to education that will affect Cabécar children for years to come. Indigenous populations such as the Cabécar must be prioritized in efforts towards COVID-19 relief. Internationally, we need to listen to their needs and include them in government solutions. Only by amplifying Indigenous voices can we ensure that their rights are respected as we move forwards in this global health crisis.