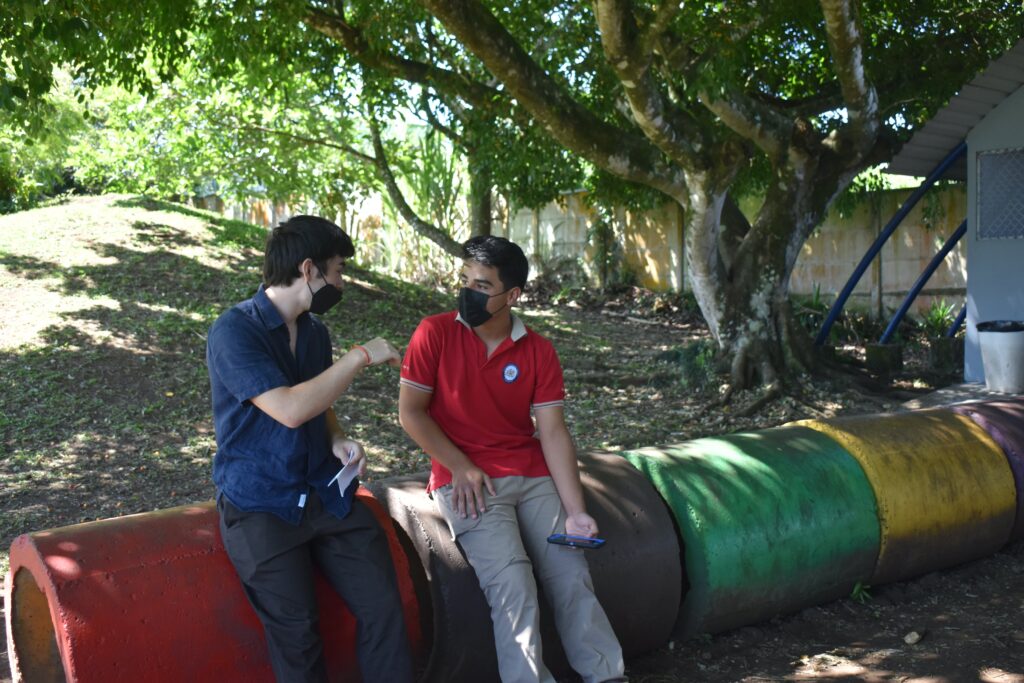 Recently, CCC had the unique opportunity to facilitate an in-person workshop with one of our global connections! Last month, we connected nine 11th-grade students from the school of Jorge Debravo in Turrialba, Costa Rica, to nine American college freshmen studying abroad with Verto Education. Verto Education gives students the opportunity to take general education courses in a foreign country during their freshman year of college. These students were enrolled in a college course titled Social Problems, which examines a variety of perspectives about issues facing society today.
Before they met, CCC program moderator Kayla Angstadt began the connection by engaging students in discussions around effective communication and multicultural awareness. In their separate classes, students shared interests and doubts about meeting and collaborating with students from the other country. They made observations on how an individual's values and viewpoints are affected by their culture, surroundings, and experiences. At the end of the discussion, the Jorge Debravo students wrote individual letters in Google Docs and shared them with the Verto students. Letters included information about the student, their school, their values, and questions about their connecting partners.
After connecting online, students had the opportunity to meet for a three-hour workshop to practice their communication skills. The day started with a warm-up introductory activity, where students learned each other's names while practicing the principal concepts of effective communication; empathy, open-mindedness, honesty, and active listening. Without introducing themselves beforehand, students were asked to call out each other's names and toss a whitewater rescue rope bag back and forth between the groups. They were thrilled to discover who their digital penpals were in person!
Verto students were then given a tour of Jorge Debravo and got to practice answering questions in person. Verto students worked on their Spanish speaking skills, while the Costa Rican students practiced their English.
One ambitious Verto student named Marie decided to spend her volunteer hours at Jorge Debravo, working on a service-learning project about the importance of composting. Using her research, she first engaged the 2nd-grade classroom in her project and then introduced it to the 11th-grade classroom and other Verto students. She presented her project and educated the students about composting and sustainable agriculture. Her work extended to the cafeteria workers as well, effectively changing the culture of the school to be more environmentally conscious.
The 11th-graders and Verto students worked together for the next hour in two groups. One group created posters about what could go in the compost mix and the other group worked together to put the finishing touches on the compost bin.
In the last activity, students had an hour-long session speaking in small groups about global issues. They then participated in a seminar-style discussion led by the Verto college professor, María Fernanda Batista Lobo. MA., professor of international relations and humanities. Students broke into smaller mixed groups and discussed different global issues throughout the world. They came back to the classroom with one focused issue that they see in their community.
Issues such as equal education, pollution of rivers, poverty, and greenhouse gases were brought up. They then discussed possible real-life solutions to each issue. We concluded the discussion with the example of compost, and they decided that it served as a real local solution to the issue of greenhouse gases. This experience gave the high school students from Jorge Debravo the opportunity to engage in college-level course material for the first time.
To conclude the activity, Jorge Debravo School invited the Verto students and staff to eat lunch in their cafeteria. Students enjoyed a typical dish of chicken with rice, plantains, and refried beans. Students sat in a mix of groups and laughed over how nervous they were at the beginning of the day. They exchanged social media (after completing permission forms provided by CCC) and many of them have remained in contact with their new friends over the past few weeks. Overall, many students reported that this experience was something that was very enjoyable and has become one of their favorite memories of the year.
We continued the connection at the end of April when the Verto students hosted the 11th-graders on their campus. Read more here!
About the organizations:
Centro Educativo Jorge DeBravo is a local private school in Turrialba, Costa Rica that values multicultural education and global citizenship. Cross Cultural Connect has been hosting connections through their school around the world for the past 7 years.
Verto Education is a study abroad program available for first year university level students in the United States. Students have the opportunity to take their general education courses abroad in countries like Spain, Italy, England and Costa Rica.
Cross Cultural Connect is the glue that brings them all together!